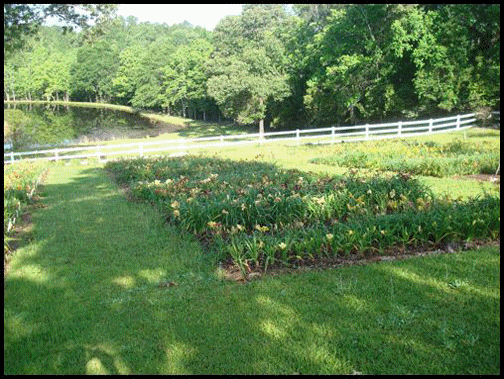 Welcome to Trufant Gardens
Our daylilies are available shipped directly to you through this website.
(Shipping charges will apply or you can arrange to pick them up at B&B Pet Stop 5035 Cottage Hill Road - Mobile, AL 36609)
Each spring, when the daylilies are in bloom, you can find a wide selection of daylilies on the front porch of B&B Pet Stop.

Trufant Gardens is located in South Alabama near the Gulf of Mexico. We grow over 800 different varieties of daylilies Our farm is a state-inspected, licensed nursery selling healthy plants, many of which are award-winners. We dig each plant ourselves and always try to ship large double-fan or better divisions unless otherwise indicated.

Trufant Gardens is located in zone 14 designated by the American Hemerocallis Society. We are considered to be in zone 8a of the USDA Plant Hardiness Zone Map. We are fortunate to have a long growing season here in the deep South. When it gets hot here, it really gets hot. For that reason we will have to discuss the best shipping times. (Please see FAQ's for more information on shipping.) Our shipping season usually begins around March 1st and ends around December 1st, weather permitting.
To learn more about how to order, payment methods or shipping methods please visit our Frequently Asked Questions page.